The subtitles file for 9-1-1: Lone Star Season 1 & 2 is now available in Srt, Zip or Rar format. We also enable options for different languages should incase you preferred another language rather than English.

TV SERIES (2020) 9-1-1 Lone Star Season 2 & 1 English SRT Subtitles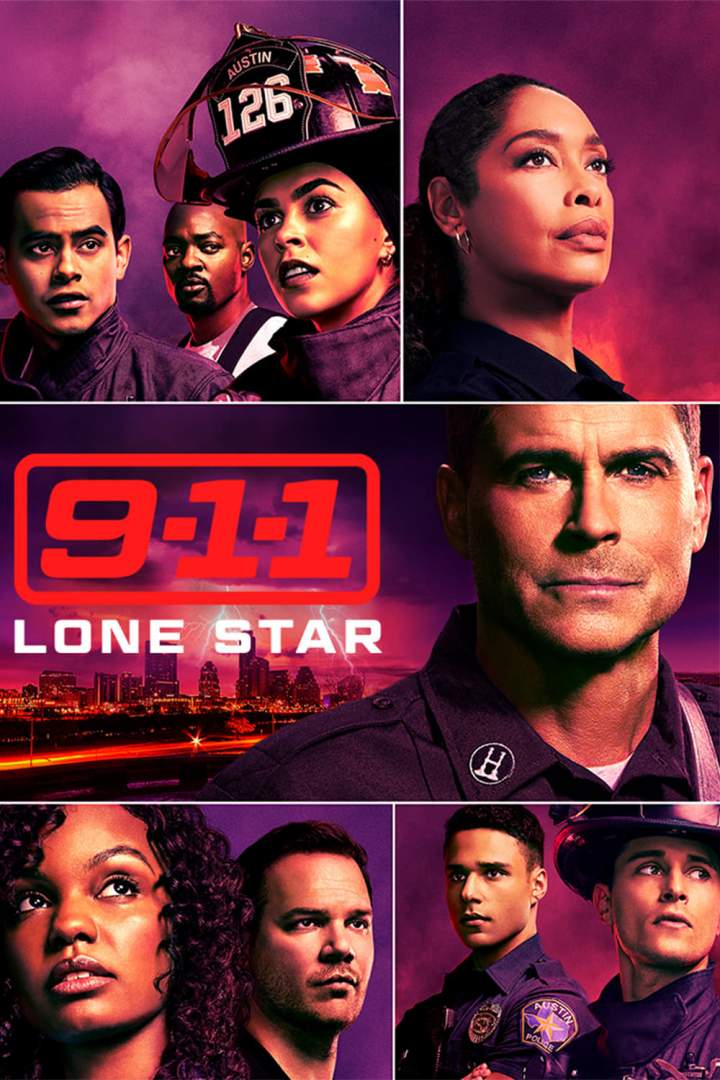 Synopsis – A sophisticated New York cop, along with his son, re-locates to Austin, Texas, and must try to balance saving those who are at their most vulnerable with solving the problems in his own life.
Serial Title: 9-1-1: Lone Star
Show Type: Scripted

Genres: Action, Crime, Drama

Casts: Rob Lowe, Liv Tyler, Ronen Rubinstein

Release Date: January 19, 2020
https://www.imdb.com/title/tt10323338/
Season 02 , Episode 01 – "Back in the Saddle"
The 126 crew responds to a military tank on the loose in downtown Austin and a human pile-up at the roller derby. Meanwhile, new paramedic captain, Tommy Vega, joins the team and Owen is reunited with his ex-wife and T.K.'s mother, Gwyneth, and receives an update on his cancer.
Season 02 , Episode 02 – "2100°"
After a volcanic eruption wreaks havoc in Austin, the members of the 126 race to save lives at a college pool party, a family's mini-golf outing and a woman trapped in her food truck by a horde of scorpions.
Season 02 , Episode 03 – "Hold the Line"
As a wildfire spreads across Texas, Evan "Buck" Buckley, Henrietta "Hen" Wilson and Eddie Diaz from the 118 firehouse in Los Angeles arrive in Austin to help Capt. Strand and the 126. As the crews race to save a group of teenagers trapped by the fire at a campground, Owen and Hen fight for their lives in the aftermath of a helicopter crash.
Season 02 , Episode 04 – "Friends with Benefits"
The 126 is on the scene when a disastrous wedding comes crumbling down, as Grace helps a dominatrix and her slave involved in a shocking situation. Meanwhile, Owen and Gwyneth struggle to label their new relationship and a man from Marjan's past re-enters back in her life.
Season 02 , Episode 05 – "Difficult Conversations"
Judd is shocked at the latest victim of an emergency call, Grace and Carlos must save a woman literally trapped in a domestic abuse situation and the 126 arrive at a horrific highway crash that threatens the lives of a father and daughter. Meanwhile, Owen and Gwyneth face a difficult decision in their relationship and Mateo regrets his new tattoo.
Season 02 , Episode 06 – "Everyone and Their Brother"
Owen and T.K. risk their lives to save two brothers trapped in a homemade minefield. Meanwhile, Grace receives an emergency call from a conjoined twin who's brother is dying, Tommy interviews new candidates to fill the team's open EMT position and Paul's mother and estranged sister pay him an unexpected visit.
Season 2, Episode 07 – "Displaced"
The 126 arrive at a funeral where another dead body has crashed the burial, and then to a hospital where an MRI has gone haywire. Owen and Tommy each feel displaced in their homes as Gwyn moves into the Strand household and Charles seemingly becomes the full-time parent in the Vegas'. Meanwhile, T.K. makes waves in his new position.
Season 2, Episode 08 – "Bad Call"
A bank robbery, an apartment fire and a pregnant woman lost in a parking garage are the seemingly unconnected calls to which the 126 responds. Then, T.K. celebrates his one-year anniversary of sobriety, while Owen and Gwyn may not make it to the end of the week as a couple. Also, Carlos finds himself working on a case with his Texas Ranger father.
Season 2, Episode 09 – "Saving Grace"
Grace and Judd fight for their lives in the aftermath of the horrific car accident, as flashbacks show how a childhood tragedy led Judd to meet Grace and how they ultimately fell in love.
Season 2, Episode 10 – "A Little Help from My Friends"
The 126 make calls to a bloody disaster at an ice cream shop and help rescue a boy missing from his own birthday party. Meanwhile, the 126 holds an "intervention" for Owen after he accidentally spills his secrets to new roommate Mateo. Then, T.K. and Carlos take a big step in their relationship, as Grace learns to rely on others in the aftermath of the car accident.
Season 2, Episode 11 – "Slow Burn"
After being forced to take time off work to recover from his surgery, Owen finds himself immersed in the search for a serial arsonist. Meanwhile, T.K. and Carlos take their relationship to the next level and Marjan copes with the aftermath of losing someone on the job.
Season 2, Episode 12 – "The Big Heat"
A recovering Owen becomes the prime suspect in the serial arsonist case. Meanwhile, T.K. and Carlos find themselves in a fiery situation and Tommy gets the surprise of her life.
Season 2, Episode 13 – "One Day"
Owen helps Tommy through a personal emergency.
Season 2, Episode 14 – "Dust to Dust (Season Finale)"
Owen and the members of the 126 race into action when a massive dust storm engulfs Austin.
---
Download 9-1-1: Lone Star S01 & S02 English Subtitles
9-1-1: Lone Star Season 2 Subtitles
Subtitle Preview:
00:00:01,392 –> 00:00:03,072
I don't want any
surprises out there today.
00:00:03,220 –> 00:00:05,918
[music playing]
00:00:06,093 –> 00:00:08,617
ANNOUNCER: "9-1-1 Lone
Star," all new Mondays.
00:00:08,704 –> 00:00:12,534
And check out our other Fox
shows "9-1-1," "Prodigal Son,"
The Subtitle(s) for 9-1-1: Lone Star Season 1 & 2 may either be in single Srt format or multi file  compress to Zip / Rar format. Either way, we have provide simple details guide on how to add or use this subtitle file(s) on your Media Player with the movie - 9-1-1: Lone Star Season 1 & 2.

How To Add Subtitle To 9-1-1: Lone Star Season 1 & 2 In Media Player
Before you can add
9-1-1: Lone Star Season 1 & 2 subtitle file
file to the movie, you should make sure the exact SRT file for the particular movie format is downloaded from
Film2Srt.com
.
To download subtitles for 9-1-1: Lone Star Season 1 & 2, right click on the Black button above with your preferred language. Your subtitle file will begin downloading immediately.
Below are the step-by-step guide to add subtitles for 9-1-1: Lone Star Season 1 & 2 file on your movie player.
Step 1 - After downloading the 9-1-1: Lone Star Season 1 & 2 subtitles file in zip format. Extract the Srt files in it and copy or move it to the exact file/folder location of the movie on your mobile phone or personal computer.
Step 2 - After moving the subs  file for 9-1-1: Lone Star Season 1 & 2 to the same movie file location, the movie might play alongside the subtitles without any further settings or configuration.
Step 3 - However, If step 1 and 2 above didn't work out, then after opening your preferred movie player and movie is ready to be played. Select option or tools, then click on subtitles, navigate to the subtitle folder and select the actual subtitle file and the movie will start displaying along with the subtitle right away.
Step 4 - Lastly, if you are watching with VLC or MX Player on your Laptop, you can easily drag and drop the SRT file over the playing movie, and it should work correctly.
---
If the above subtitulos español file for 9-1-1: Lone Star Season 1 & 2 is not working as expected after following our recommended guide above. Use the comment box below to notify us and we will surely provide another adequate and a better version for you.