The subtitles file for Dali and Cocky Prince – Korean Drama is now available in Srt, Zip or Rar format. We also enable options for different languages should incase you preferred another language rather than English.

Korean Drama (2021) Dali and Cocky Prince Season 1 English SRT Subtitles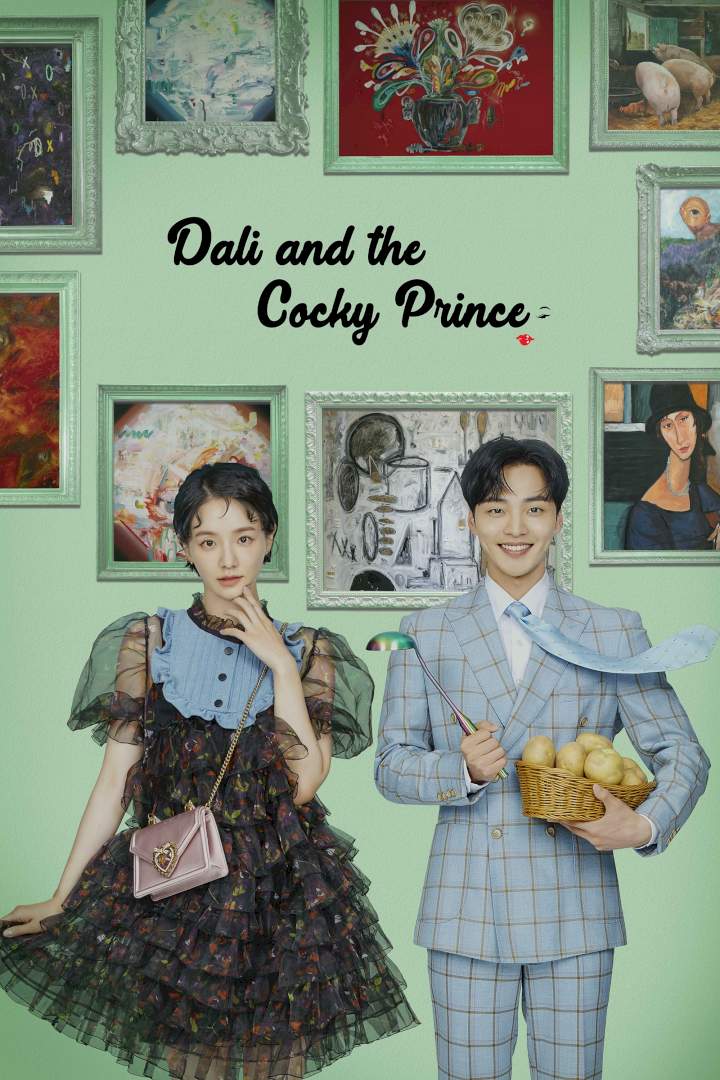 Synopsis : A story about an illiterate up starter who wants to join the Inner Circle, trying to steal an art museum from a daughter of a prestigious family and falls in love with her instead.
Dali and Cocky Prince // Dal-Ri and Gamjatang // Dalriwa Gamjatang

Genres: Comedy, Drama, Romance

Casts: Park Gyuyoung, Min-Jae Kim, Kwon Yul

Release Date: September 22, 2021
https://www.imdb.com/title/tt14730768/
---
Download SRT "

Dali and Cocky Prince

" First Season Subtitles
Season 1, Episode 1 – "How Many Bowls of Gamjatang is a Modigliani Painting Worth?"
Da Li gets entrusted to take care of things at a party hosted by a VVVIP of the Saint Miller Art Museum. Da Li is supposed to pick up Jin Hitonari at the airport and take him to the party. But instead, she picks up Jin Moo Hak. Everything from that moment on gets completely turned upside down.
Season 1, Episode 2 – "Could Brand Name Watches Capture Eternity?"
Saddened by having to say goodbye, Moo Hak tells Da Li that they will meet again as he puts on the watch he was wearing on her wrist. But when Moo Hak rushes back to ask for her contact, Da Li disappears after taking a mysterious phone call. Later, Moo Hak gets to meet her again in the most unexpected place.
Season 1, Episode 3 – "What is "Untitled" About?"
Da Li and Moo Hak reunite at the Cheongsong Museum of Art. Unlike Da Li, who is happy to see him, Moo Hak draws a bold line between them strictly as creditor and debtor. However, throughout the day, Moo Hak can't stop worrying about her. Later that night, he makes a surprise visit.
Season 1, Episode 4 – "Can You Tell if Someone is Rich by How They Eat Yogurt?"
Moo Hak bumps heads with Da Li in his extraordinary way of recovering his money from the gallery facing a financial crisis. Da Li, who has no idea how the world turns, suddenly sells her father's house and is left with nowhere to go. As she sits alone drinking, Moo Hak shows up in front of her.
Season 1, Episode 5 – "Does Rain Seem Different From a Hotel Than a Motel?"
After taking Da Li back to the hotel and returning home, Moo Hak looks at the falling rain out the window and thinks of Da Li. He calls her, knowing that the night view from the hotel would be spectacular. But when she looks out her window, she sees the dark reality of her hopelessness.
Season 1, Episode 6 – "Can Garbage Become Art?"
Due to a provocative and twisted news article, the art exhibition faces a crisis. However, Da Li finds a solution on her own and turns the situation right around. Moo Hak stays up all night thinking of Da Li's well-being and goes to the gallery early in the morning to help her, but his help turns into chaos.
Season 1, Episode 7 – "Does Death Mean The End?"
Darli slowly begins to understand the solace Moo Hak gives her is genuine. With the art exhibition nearing, the two of them rush to make it a success for their own goals. They act separately on the matter. Finally, the opening party begins. However, Moo Hak, Darli, Tae Jin, and Chak Hee are all present.
Season 1, Episode 8 – "Is It Possible to Buy Someone's Feelings?"
Da Li and Moo Hak can't get their minds off the late-night kiss they shared in the gallery. Everything becomes awkward between them, especially the meeting at the gallery, which becomes a total catastrophe. Later, Da Li avoids Moo Hak and heads over to Tae Jin, waiting for her in front of her house.
Season 1, Episode 9 – "Does Everyone Become A Grown-Up?"
Due to a sudden attack by a mysterious intruder, Moo Hak finally learns that Da Li has been staying with Won Tak. With the rooftop unit's door lock smashed and useless, Da Li has no choice but to spend the night at Moo Hak's place. Meanwhile, Da Li suspects that the intruder could have been someone from the gallery.
Season 1, Episode 10 – "Do You Know How To Tell Dogs Apart From Wolves At Dusk?"
Tae Jin explains to Da Li that Moo Hak approached her and Cheongsong Gallery with impure intentions to change her perception of him. Moo Hak becomes angry at Da Li for not believing in him and standing behind Tae Jin. However, it leads to him making a possible mistake.
Season 1, Episode 11 – "What's Thicker Than Blood?"
Chak Hee's unexpected visit in the middle of the night puts an abrupt stop to Da Li and Moo Hak's romantic plans. Without fully understanding Moo Hak and Chak Hee's relationship, Da Li leaves for work in the morning. However, when she gets to work, she is faced with a tremendous ordeal.
Season 1, Episode 12 – "What's The Colour Of Love?"
Moo Hak gets into a massive fight with the optimistic employees without knowing the peril the gallery is about to face. With the atmosphere destroyed, Moo Hak and Darli's secret relationship almost becomes exposed. Meanwhile, Si Hyung discloses to the press something astronomical that puts Cheongsong Gallery at its most vulnerable.
Season 1, Episode 13 – "Where Does Anxiety Come From?"
After the chaotic incident with Geum Ja, Da Li keeps her distance from Moo Hak. Seeing her turn her back like that, Moo Hak becomes anxious. When he gets word that Tae Jin purchased a wedding ring, Moo Hak rushes over to the gallery to see Da Li.
Season 1, Episode 14 – "What's the Lux of the Brightness of Love?"
Moo Hak and Da Li visit an artist's studio, and for the first time, Moo Hak gets moved by artistic work. He also reaffirms his love for Da Li. Later, Da Li begins to suspect Tae Jin to be the culprit behind the series of incidents the gallery has had to face. Meanwhile, Si Hyung tries to blackmail Tae Jin to get out of trouble.
Season 1, Episode 15 – "Are We All Stars?"
Moo Hak becomes suspicious of Ki Chul's actions, and Da Li feels uneasy after hearing her father's voice in Tae Jin's office. Won Tak is also bothered by what Si Hyung said regarding Kim Nak Chun's death. Meanwhile, Ki Chul threatens Tae Jin with a video, but Tae Jin doesn't take it lightly.
Season 1, Episode 16 – "There Is No Right Answer To Life, But You're My Only Right Answer!"
As Da Li waits for Moo Hak to show up at the gallery, Moo Hak gets rushed into surgery after sustaining a knife wound. With the amount of blood he lost, his injury looks severe. When Da Li shows up at the hospital, Moo Hak's father tells her to leave and break things off with Moo Hak. However, Da Li waits for Moo Hak to recover.
The Subtitle(s) for Dali and Cocky Prince – Korean Drama may either be in single Srt format or multi file  compress to Zip / Rar format. Either way, we have provide simple details guide on how to add or use this subtitle file(s) on your Media Player with the movie - Dali and Cocky Prince – Korean Drama.

How To Add Subtitle To Dali and Cocky Prince – Korean Drama In Media Player
Before you can add
Dali and Cocky Prince – Korean Drama subtitle file
file to the movie, you should make sure the exact SRT file for the particular movie format is downloaded from
Film2Srt.com
.
To download subtitles for Dali and Cocky Prince – Korean Drama, right click on the Black button above with your preferred language. Your subtitle file will begin downloading immediately.
Below are the step-by-step guide to add subtitles for Dali and Cocky Prince – Korean Drama file on your movie player.
Step 1 - After downloading the Dali and Cocky Prince – Korean Drama subtitles file in zip format. Extract the Srt files in it and copy or move it to the exact file/folder location of the movie on your mobile phone or personal computer.
Step 2 - After moving the subs  file for Dali and Cocky Prince – Korean Drama to the same movie file location, the movie might play alongside the subtitles without any further settings or configuration.
Step 3 - However, If step 1 and 2 above didn't work out, then after opening your preferred movie player and movie is ready to be played. Select option or tools, then click on subtitles, navigate to the subtitle folder and select the actual subtitle file and the movie will start displaying along with the subtitle right away.
Step 4 - Lastly, if you are watching with VLC or MX Player on your Laptop, you can easily drag and drop the SRT file over the playing movie, and it should work correctly.
---
If the above subtitulos español file for Dali and Cocky Prince – Korean Drama is not working as expected after following our recommended guide above. Use the comment box below to notify us and we will surely provide another adequate and a better version for you.