The subtitles file for Hometown – Korean Drama is now available in Srt, Zip or Rar format. We also enable options for different languages should incase you preferred another language rather than English.

Korean Drama (2021) Hometown Season 1 English SRT Subtitles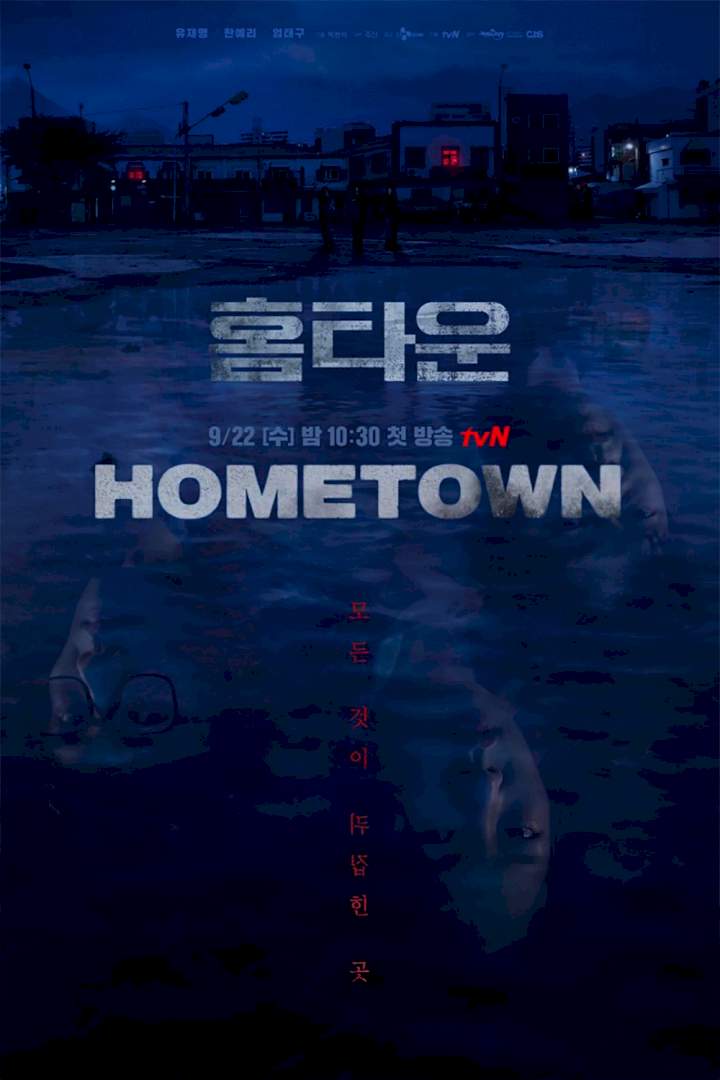 A mystery evil thriller that finds the truth of a recording tape containing mysterious serial killings and unidentified sounds in a small city.
Synopsis : Set in the year 1999, the drama centers around a police detective who is investigating a strange murder case in a small local town, and a lady who has to find her missing niece. The two people get involved in an incident and confront an errorist, and dig into the secret of an unidentified recording tape.
Genres: Crime, Drama, Horror, Mystery

Casts: Tae-goo Eom, Yoo Jae-myung, Yeri Han

Release Date: September 22, 2021
https://www.imdb.com/title/tt14687370/
---
Download SRT "

Hometown

" KDrama First Season Subtitles
Season 1, Episode 1 – "A Missing Girl"
A murder takes place on an evening in the pouring rain, and Cho Jung-hyun, who has just returned to her hometown after 12 years, realizes that Cho Jae-young, her beloved niece, has gone missing. Meanwhile, Choi Hyung-in, the detective in charge of the murder case, finds out that there is a relationship between the missing girl and Cho Kyung-ho, the culprit who's been charged and imprisoned for committing the Saju Station Gas Terror Attack.
Season 1, Episode 2 – "A Tape"
Hyung In and the police start the investigation to find Jae Young. Hyung In meets Jae Young's school friends and they tell him about a tape. Hyung In finally obtains the tape, but a creepy and weird sound comes out from the tape. Meanwhile, Jung Hyun also tries to find Jae Young on her own. At places she visits, she gets to see some strange patterns. She knows that she has seen the patterns before, but don't remember what they are.
Season 1, Episode 3 – "The Mixtape"
Hyung In tries to find leads to Cho Jae Young's case by listening to the cassette tape where mysterious sounds are recorded. When a drug addict's body is found at the port, Hyung In realizes that this case is related to a drug ring. Meanwhile, Jung Hyun finds a videotape she watched with her high school friends. The content is so creepy and mysterious but it's even more strange that no one remembers watching it.
Season 1, Episode 4 – "The Inverted Dream"
Due to an explosion, Hyung-in's partner Si-Jeong gets injured, which devastates Hyung-in. This makes him drop the case. However, a key suspect of Jae-young's case, Kim Hwan-kyu turns himself in. Jung-Hyun hears from Jae-young's friends that Jae-young had sent them a message a month before Kim Hwan-kyu turned himself in, and this makes Jung-Hyun believe that Jae-young is still alive.
Season 1, Episode 5 – "Guru"
Jung-hyun is kidnapped and forced into a mysterious ritual. She realizes that Jae-young is not dead and is held by the people of Youngjingyo. The man who works as a representative of Youngjingyo reveals a shocking truth behind the 1987 terror attack. Hyung-in also realizes that he's been surrounded by Youngjingyo for a very long time.
Season 1, Episode 6 – "The Interview"
After Jung-hyun is released and sent back home, she leaves again to look for Jae-young with Yong-tak. Another murder case occurs in Saju City. To get to the bottom of all this mystery, Hyung-in decides to do it his way.
Season 1, Episode 7 – "One Family Welfare Center"
Hyung In hears from Jung Hyun that she saw Jae Young at the place where Youngjingyo believers hold their rite. When Hyung In meets Kyung Ho at the prison, he hears something shocking. Meanwhile, Jung Hyun is taken by mysterious men and meets Im In Gwan.
Season 1, Episode 8 – "The Magazine Club Kids"
Jung-hyun turns down In-gwan's offer and starts looking for leads with Yong-tak again. Meanwhile, Hyung-in is put in a tough spot as Kim Hwan-kyu tells the press that he was tortured during the investigation. Hyung-in also hears a rumour that there's a video tape named "Mixed Tape" circulating in Saju City and that those who watched the video are saying strange things.
Season 1, Episode 9 – "Cheonyang Filtration Plant"
Hyung-in heads to the Cheonyang Filtration Plant to stop the disaster that is about to occur in Saju. But he becomes tied up by the Youngjingyo believers. There he hears that another gas terror attack that's similar to that of 1987 is about to take place. The people in Saju start to flock around the filtration plant as if they're possessed by something.
Season 1, Episode 10 – "Cho Kyung Ho"
A few days after the Cheonyang Filtration Plant incident, Cho Kyung Ho escapes from the institution. Hyung In and Jung Hyun promise to meet up and go look for Kyung Ho together, but she doesn't show up. She only leaves an address for Hyung In. When Hyung In gets there, he sees something he did not expect to see.
Season 1, Episode 11 – "The Heir"
Jung-hyun joins Youngjingyo as the next heir who will replace Jae-young. Watching those inside who are merely waiting to face their death, Jung-hyun comes to the conclusion that she needs to take extreme measures. Meanwhile, Kyung-ho, after the release from the prison, pays Kyung-sook, his mother, a visit before the last phase of the experiment. Hyung-in at the same time realizes the intention behind Kyung-ho's message.
Season 1, Episode 12 – "Choi Hyung-In"
By sacrificing herself, Jung-Hyun shows the believers that what the proxy is saying is wrong, and the Youngjingyo believers change their minds. Meanwhile, Jae-young follows In-Gwan to the Youngjingyo building to save her aunt, and Hyung-in goes to Kyung-ho who is waiting for him. When they meet, Kyung-ho makes a final offer to Hyung-in that can put an end to this long experiment.
The Subtitle(s) for Hometown – Korean Drama may either be in single Srt format or multi file  compress to Zip / Rar format. Either way, we have provide simple details guide on how to add or use this subtitle file(s) on your Media Player with the movie - Hometown – Korean Drama.

How To Add Subtitle To Hometown – Korean Drama In Media Player
Before you can add
Hometown – Korean Drama subtitle file
file to the movie, you should make sure the exact SRT file for the particular movie format is downloaded from
Film2Srt.com
.
To download subtitles for Hometown – Korean Drama, right click on the Black button above with your preferred language. Your subtitle file will begin downloading immediately.
Below are the step-by-step guide to add subtitles for Hometown – Korean Drama file on your movie player.
Step 1 - After downloading the Hometown – Korean Drama subtitles file in zip format. Extract the Srt files in it and copy or move it to the exact file/folder location of the movie on your mobile phone or personal computer.
Step 2 - After moving the subs  file for Hometown – Korean Drama to the same movie file location, the movie might play alongside the subtitles without any further settings or configuration.
Step 3 - However, If step 1 and 2 above didn't work out, then after opening your preferred movie player and movie is ready to be played. Select option or tools, then click on subtitles, navigate to the subtitle folder and select the actual subtitle file and the movie will start displaying along with the subtitle right away.
Step 4 - Lastly, if you are watching with VLC or MX Player on your Laptop, you can easily drag and drop the SRT file over the playing movie, and it should work correctly.
---
If the above subtitulos español file for Hometown – Korean Drama is not working as expected after following our recommended guide above. Use the comment box below to notify us and we will surely provide another adequate and a better version for you.