The subtitles file for Motherland Fort Salem Season 1 & 2 is now available in Srt, Zip or Rar format. We also enable options for different languages should incase you preferred another language rather than English.

TV SERIES: Motherland Fort Salem Season 1 & 2 English SRT Subtitles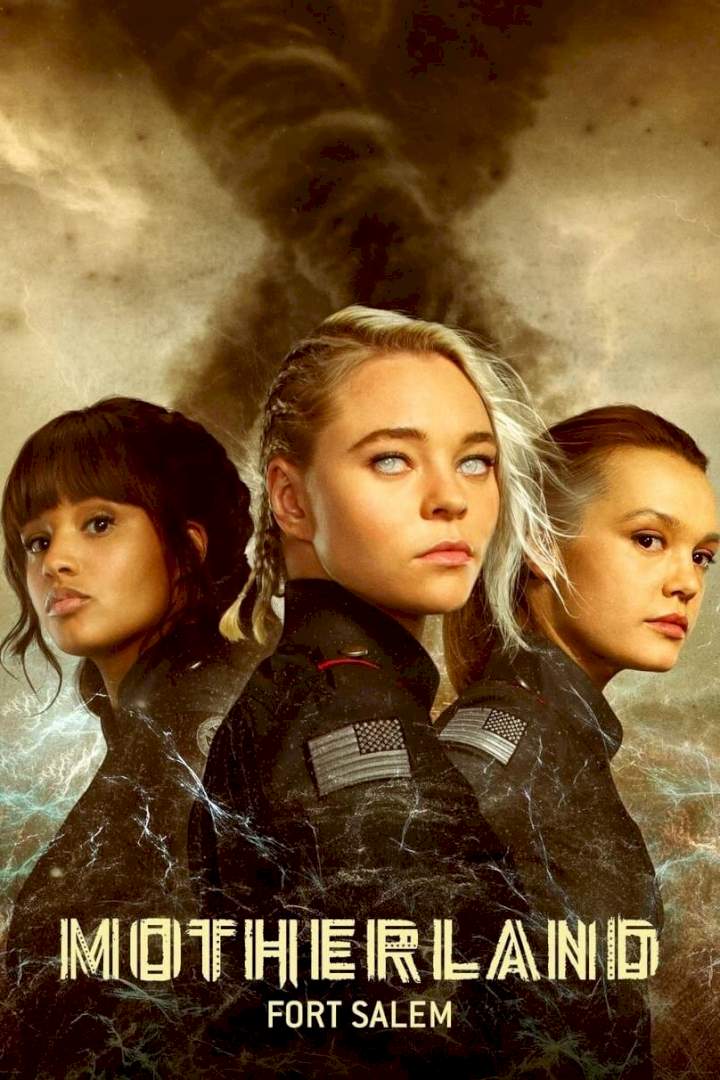 Synopsis: Three young witches with basic training in combat magic prepare to defend the country against looming terrorist threats by using supernatural tactics and weapons.
Set in an alternate America where witches ended their persecution over 300 years ago by cutting a deal with the government to fight for their country, the series follows three young women from basic training in combat magic into early deployment
Genres: Drama, Fantasy, Sci-Fi

Casts: Taylor Hickson, Amalia Holm, Demetria McKinney

Release Date: March 18, 2020
https://www.imdb.com/title/tt9900092/
Three young women trained in combat magic prepare for a terrifying and thrilling early deployment in a world where traditional roles of gender and power are flipped, with women on the front lines fighting looming terrorist threats.

Season 2, Episode 1 –"Of the Blood"
Despite the threat of the Camarilla, the discovery of new witches gives Alder hope. Tally struggles with her role as a Biddy, and Raelle and Abigail return to Fort Salem with their mysterious new abilities.
Season 2, Episode 2 –"Abomination"
The Unit begins War College, introducing them to their Coven and new challenges. Anacostia and Scylla find themselves unlikely partners in a dangerous mission. Tally mentors a new recruit.
Season 2, Episode 3 –"A Tiffany"
Raelle prepares to show her ability to the top brass, while Abigail struggles with her new role. Tally begins to question her unsettling dreams. Anacostia and Scylla form a plan to infiltrate the enemy further.
Season 2, Episode 4 –"Not Our Daughters"
Anti-witch sentiment boils over as the Unit defends the first witch testing center at its grand opening. Anacostia and Scylla go undercover to follow the Camarilla.
Season 2, Episode 5 –"Brianna's Favorite Pencil"
The Unit competes for a chance to commune with the dead during Samhain. Scylla and Anacostia search for Camarilla leadership by attending a Halloween gala and make a horrifying discovery.
Season 2, Episode 6 –"My 3 Dads"
Raelle brings Tally home to the Cession, where they struggle with the past. Abigail is confronted with pressure from her family when Adil accompanies her home.
Season 2, Episode 7 –"Irrevocable"
Raelle fights for her life, just as the Army and Spree converge on a secret Camarilla stronghold. Abigail and Adil's mission for vengeance escalates.
Season 2, Episode 8 –"Delusional"
Tally leads the unit on a mind-bending mission to find Nicte Batan – but is the unit strong enough to withstand Nicte's defenses?
Season 2, Episode 9 –"Mother of All, Mother of None"
Distrust in Alder grows as Tally and Abigail pressure those in power for changes. Raelle gains a deeper understanding of the Mycelium and its purpose for her.
Season 2, Episode 10 –"Revolution Part 1"
The Camarilla brings the fight to Fort Salem. Raelle, Abigail, Tally and their allies are forced to make impossible, world-changing choices.
---
Season 1, Episode 1 –"SAY THE WORDS"
Three witches join basic training at Fort Salem where they'll prepare for the front lines, fighting looming terrorist threats with supernatural tactics and weapons.
Season 1, Episode 2 –"MY WITCHES"
The unit travels to Salem Town, but a disturbance throws the proceedings into chaos. Tally wonders if she made the right choice to embark on a military career. Abigail attempts to bury the hatchet with Raelle. Raelle grows closer to Scylla.
Season 1, Episode 3 –"A BIDDY'S LIFE"
On the eve of Beltane, male witches arrive at Fort Salem. Raelle learns more about Scylla's past. Alder leads an international military council of witches, and is startled by a new crisis.
Season 1, Episode 4 –"HAIL BELTANE"
The base celebrates the rituals of Beltane, where Tally and Gerit's connection grows and Abigail finds strength in competition. Raelle is deeply affected by a tragic event and has questions for an evasive Scylla.
Season 1, Episode 5 –"BELLWEATHER SEASON"
Abigail brings the unit to a High Atlantic wedding, in hopes of increasing their odds for War College. Abigail struggles under family pressures, while Raelle leans on Scylla. Tally makes a discovery that will alter the future of the unit.
Season 1, Episode 6 –"UP IS DOWN"
Abigail has to come to terms with her vulnerability in the aftermath of horrific events, while Tally struggles with being supportive while also keeping a secret from her unit. And Raelle takes extreme measures to connect with Scylla.
Season 1, Episode 7 –"MOTHER MYCELIUM"
Abigail forges a connection with Adil, a new visitor to base camp, and pushes a devastated Raelle to help him save a life. Tally uses Gerit as distraction from her increasingly burdensome secrets. And Anacostia probes into Scylla's past.
Season 1, Episode 8 –"CITYDROP"
The witches' training culminates at Citydrop, their final training exercise. Devastating secrets come to light, splintering the unit and forcing Tally to question her blind trust.
Season 1, Episode 9 –"COUP"
In the aftermath of Citydrop, the unit comes closer together, while their distrust of Alder grows. Abigail is faced with eulogizing a fallen soldier, while Tally learns something new about Gerit. Anacostia grants one last favor to Scylla.
Season 1, Episode 10 –"WITCHBOMB"
Raelle, Abigail, and Tally graduate from basic training; Alder eyes the unit for a rescue mission; and Anacostia and Scylla find common ground.
---
Download SRT "
Motherland Fort Salem

" First & Second Season Subtitles
Motherland Fort Salem

Season 2 English Subtitles
---
Motherland Fort Salem

Season 1 English Subtitles       

The Subtitle(s) for Motherland Fort Salem Season 1 & 2 may either be in single Srt format or multi file  compress to Zip / Rar format. Either way, we have provide simple details guide on how to add or use this subtitle file(s) on your Media Player with the movie - Motherland Fort Salem Season 1 & 2.

How To Add Subtitle To Motherland Fort Salem Season 1 & 2 In Media Player
Before you can add
Motherland Fort Salem Season 1 & 2 subtitle file
file to the movie, you should make sure the exact SRT file for the particular movie format is downloaded from
Film2Srt.com
.
To download subtitles for Motherland Fort Salem Season 1 & 2, right click on the Black button above with your preferred language. Your subtitle file will begin downloading immediately.
Below are the step-by-step guide to add subtitles for Motherland Fort Salem Season 1 & 2 file on your movie player.
Step 1 - After downloading the Motherland Fort Salem Season 1 & 2 subtitles file in zip format. Extract the Srt files in it and copy or move it to the exact file/folder location of the movie on your mobile phone or personal computer.
Step 2 - After moving the subs  file for Motherland Fort Salem Season 1 & 2 to the same movie file location, the movie might play alongside the subtitles without any further settings or configuration.
Step 3 - However, If step 1 and 2 above didn't work out, then after opening your preferred movie player and movie is ready to be played. Select option or tools, then click on subtitles, navigate to the subtitle folder and select the actual subtitle file and the movie will start displaying along with the subtitle right away.
Step 4 - Lastly, if you are watching with VLC or MX Player on your Laptop, you can easily drag and drop the SRT file over the playing movie, and it should work correctly.
---
If the above subtitulos español file for Motherland Fort Salem Season 1 & 2 is not working as expected after following our recommended guide above. Use the comment box below to notify us and we will surely provide another adequate and a better version for you.