The subtitles file for Side Hustle Season 1 is now available in Srt, Zip or Rar format. We also enable options for different languages should incase you preferred another language rather than English.

TV SERIES (2020-2021) Side Hustle Season 1 English SRT Subtitles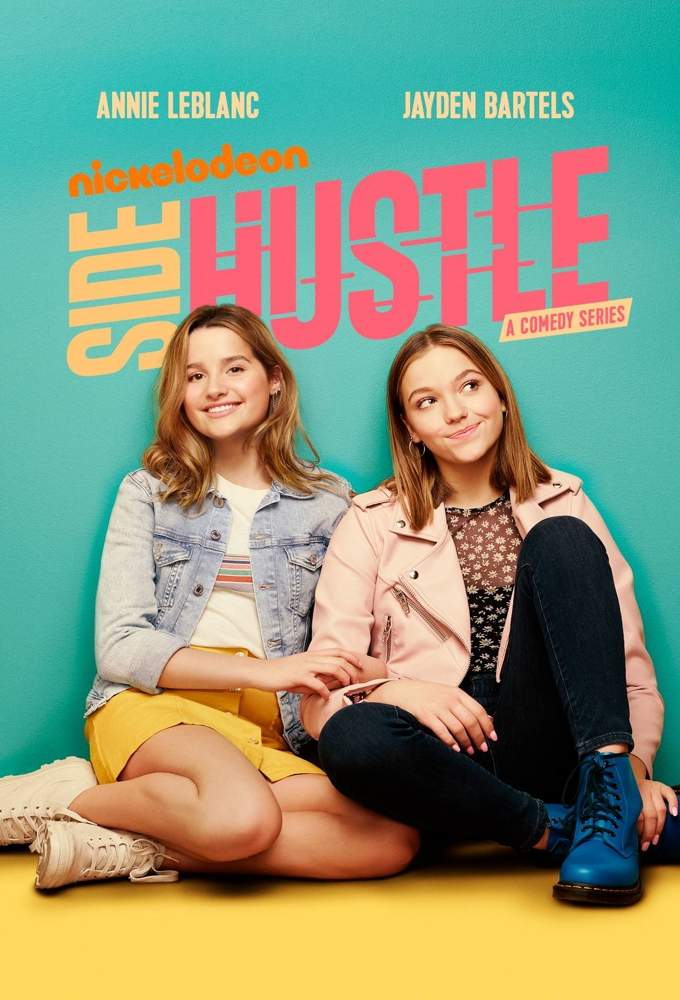 Synopsis – Side Hustle follows best friends, smart and sarcastic Lex and confident and tough Presley, as they devise a plan to make money when fireworks accidentally destroy a boat belonging to the dad of their quirky friend and neighbor, Munchy.
Serial Title: Side Hustle

Genre: Comedy

Casts: Jules LeBlanc, Jayden Bartels, Mitchell Berg

Release Date: November 7, 2020
https://www.imdb.com/title/tt11853378/

Season 1, Episode 7 – "The Kid-Ding Dongs"
The "Dance Dance Altoonisburg" competition is coming up and Lex, Presley, and Munchy are excited to take part when an old friend from Lex and Presley's past hires them for a Kidding, their dance crew and friendship are put to the test.
Season 1, Episode 8 – "Lunch Boxed In"
Lex and Presley find the treasure map they made as kids and it leads them to a time capsule that contains their first friendship bracelets.
Season 1, Episode 9 – "Chemistry Hustle"
Mr. Prusko is such a boring teacher that students can't even stay awake in class, so Lex and Presley make a deal to make him cooler in exchange for good grades, but Mr. Prusko becomes too cool and is now known as Mr. P.
Season 1, Episode 10 – "Phantom of the Mooery"
There's trouble at the Micro Mooery, where someone breaks in and milks Cash the cow at night. It's up to Lex, Presley, and Detective Munchy to find out who it is.
Season 1, Episode 11 – "Karaoke Kickoff"
Presley, Lex and Munchy are excited when they buy a karaoke machine from the "Karaoke Kickoff" show; when the machine breaks, the kids head to the studio to get their money back.
Season 1, Episode 12 – "Dog Wed-Ding"
Lex loves dogs and weddings, so she's very excited to be a dog wedding planner. But when Presley doesn't think they're right for each other, drama ensues.
Season 1, Episode 13 – "Uncle Nedward"
Munchy's Uncle Nedward visits; when a beloved hawk's eggs are left unattended Munchy, ends up stuck on the tallest peak in town.
Season 1, Episode 14 – "Jag-Jitsu"
Tedward makes the kids enroll in Jaget's new martial arts class. While Lex, Presley, and Munchy don't feel like they've actually learned anything, Jaget makes them take on the burly students of a rival martial arts class.
Season 1, Episode 15 – "Hot Tubbys"
The kids are excited when they're hired to film a commercial for Hot Tubby's Hot Tub Giveaway Contest; after the store's owner refuses to pay them, the kids decide to get back at him by pulling off a heist.
Season 1, Episode 16 – "Moos The Boss"
Lex, Presley and Munchy's favorite hangout, the MicroMooery, is set to close for the weekend, so the kids offer to run it and keep it open.
Season 1, Episode 17 – "Make-A-Mutt"
After being hired at Make-A-Mutt and discovering that the store is in trouble, the kids work together to save the business and keep the magic alive.
Season 1, Episode 18 – "Juckles"
When Jaget gets a girlfriend everyone fears the pairing means a new meanness is on the horizon, but dating softens Jaget! So when the kids learn the pair might break up, they scramble to keep them together to keep nice Jaget around.
Season 1, Episode 19 – "Rat Busters"
Lex, Presley, and Munchy get hired by a fancy French restaurant to be off-the-books rat exterminators. There's a party for the Mayor and the kids have to quickly and quietly catch a rat.
Season 1, Episode 20 – "Bot Club"
Lex, Presley and Munchy discover that Fisher is a big-time player in the underground robot fight club scene in Altoonisburg; having not lost a robot fight yet, the kids decide to bet their KidDING money on a Fisher win.
Season 1, Episode 21 – "Extra Crunchy"
Munchy becomes the new school mascot, Luna the Tuna. His debut will take place at the halftime show of a major school basketball game and will end with an epic dunk.
Season 1, Episode 22 – "Mouth Noise"
Munchy gets a catchy tune stuck in his head, and the kids form a band and turn it into a song. Unfortunately, all the drama of being in a rock and roll band catches up with the kids and threatens to break up the band before they even get started.
Season 1, Episode 23 – "Love Sensei"
Fisher turns to "Love Sensei" Jaget for help in getting a date with Lex. When Jaget's elaborate plan causes Lex's dog to go missing, Fisher must help Lex find her dog without everyone discovering the truth behind his disappearance.
Season 1, Episode 24 – "Room For Munchy"
When Lex and Presley discover that Munchy doesn't have his own room but Jaget has two, they go to drastic lengths to make Jaget give up one of his rooms; their plan backfires, so the kids make a plan b.
Season 1, Episode 25 – "The Presley Slide"
Musical artist ZooZoo is in town and when Lex, Presley, and Munchy get a gig to be a part of her live performance it's like a dream, until ZooZoo takes credit for Presley's dance move. In Tiny Claims Court, they prepare for the trial of the century.
---
Download "

Side Hustle

" First Season English Subtitles
The Subtitle(s) for Side Hustle Season 1 may either be in single Srt format or multi file  compress to Zip / Rar format. Either way, we have provide simple details guide on how to add or use this subtitle file(s) on your Media Player with the movie - Side Hustle Season 1.

How To Add Subtitle To Side Hustle Season 1 In Media Player
Before you can add
Side Hustle Season 1 subtitle file
file to the movie, you should make sure the exact SRT file for the particular movie format is downloaded from
Film2Srt.com
.
To download subtitles for Side Hustle Season 1, right click on the Black button above with your preferred language. Your subtitle file will begin downloading immediately.
Below are the step-by-step guide to add subtitles for Side Hustle Season 1 file on your movie player.
Step 1 - After downloading the Side Hustle Season 1 subtitles file in zip format. Extract the Srt files in it and copy or move it to the exact file/folder location of the movie on your mobile phone or personal computer.
Step 2 - After moving the subs  file for Side Hustle Season 1 to the same movie file location, the movie might play alongside the subtitles without any further settings or configuration.
Step 3 - However, If step 1 and 2 above didn't work out, then after opening your preferred movie player and movie is ready to be played. Select option or tools, then click on subtitles, navigate to the subtitle folder and select the actual subtitle file and the movie will start displaying along with the subtitle right away.
Step 4 - Lastly, if you are watching with VLC or MX Player on your Laptop, you can easily drag and drop the SRT file over the playing movie, and it should work correctly.
---
If the above subtitulos español file for Side Hustle Season 1 is not working as expected after following our recommended guide above. Use the comment box below to notify us and we will surely provide another adequate and a better version for you.