The subtitles file for The Good Fight Season 4 & 5 is now available in Srt, Zip or Rar format. We also enable options for different languages should incase you preferred another language rather than English.

TV SERIES (2017-) The Good Fight Season 4 & 5 English SRT Subtitles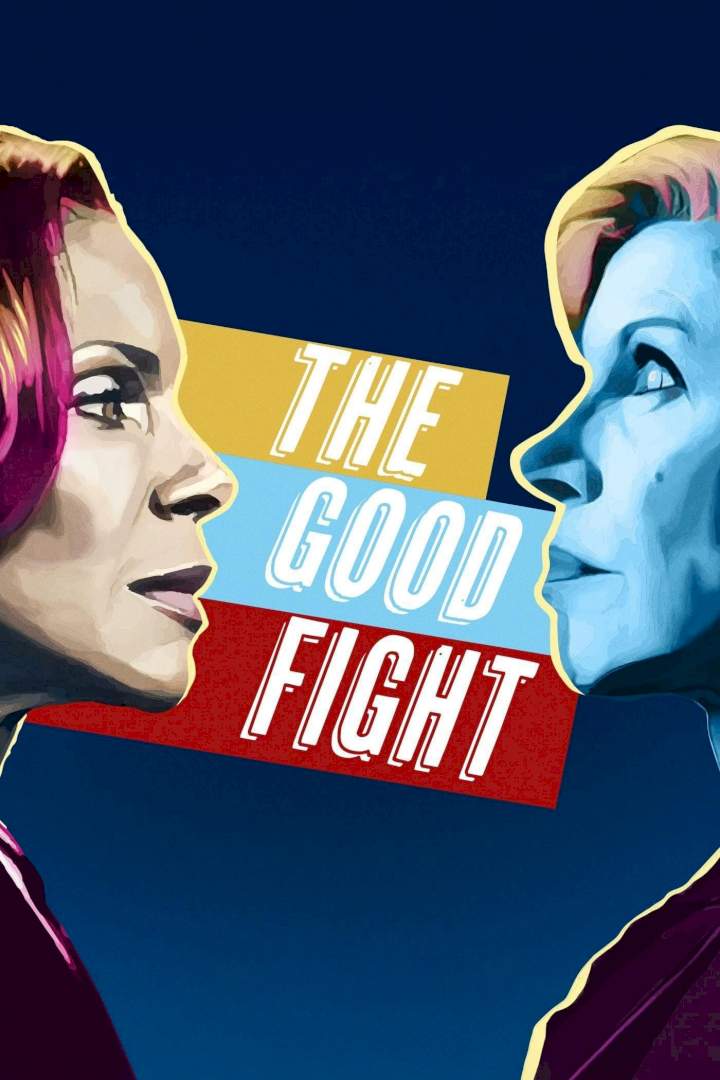 Synopsis : Picking up one year after the events of the final broadcast episode of The Good Wife, an enormous financial scam has destroyed the reputation of a young lawyer, Maia Rindell, while simultaneously wiping out her mentor and godmother Diane Lockhart's savings. Forced out of Lockhart & Lee, they join Lucca Quinn at one of Chicago's preeminent law firms.
Show Type: Scripted

Genres: Crime, Drama

Casts: Christine Baranski, Cush Jumbo, Delroy Lindo
https://www.imdb.com/title/tt5853176/
Original Title: The Good Fight
Country: United States
Channel: CBS
Release Date: April 9, 2020 (s04)
Genre: Drama
Created by: Robert King, Michelle King, Phil Alden Robinson
Cast: Christine Baranski, Rose Leslie, Erica Tazel, Cush Jumbo, Delroy Lindo, Paul Guilfoyle, Sarah Steele, Bernadette Peters
Language: English
Duration: 45 Minutes


---

Season 5, Episode 1 – "Previously On…"
A flashback to 2020 reveals how the team at Reddick, Boseman & Lockhart experienced the year's major events.
Season 5, Episode 2 – "Once There was a Court…"
Diane and Marissa find themselves arguing at the Circuit 9 3/4 Court, led by the quirky "Judge" Hal Wackner. Carmen Moyo proves herself to be an effective, yet underestimated, new associate.
Season 5, Episode 3 – "And the Court Had a Clerk…"
Diane is aghast when Kurt reveals he recognized the face of a man featured in a U.S. Capitol insurrection "Most Wanted" poster. Intrigued by Wackner, Marissa sneaks over to his copy shop "courtroom" and is thrilled by what she encounters. Back in legitimate court, Liz uses a current case to tackle Section 230.
Season 5, Episode 4 – "And the Clerk Had a Firm…"
When a comedy streaming network executive, Del Cooper, asks Liz to conduct a sensitivity read on one of his comedians, the entire firm ends up fighting over how comedy and 'cancel culture' collide. Meanwhile, FBI agent Madeline Starkey goes after Kurt for his alleged involvement in the U.S. Capitol insurrection.
Season 5, Episode 5 – "And the Firm Had Two Partners…"
Liz and Carmen represent Oscar Rivi, who is suing Harbor Hospital over the wrongful death of his daughter. Jay's investigation of the case triggers some PTSD that forces him to dig deeper into his own experience with Covid. With Madeline Starkey still hell-bent on getting Kurt to come clean, Diane decides to take matters into her own hands.
Season 5, Episode 6 – "And the Two Partners Had a Fight…"
When Reddick/Lockhart associates start posting anonymous hate messages about Julius and Diane on a new interoffice app, Diane's name partner position at the firm is once again questioned. At home, Diane grapples with her marriage after learning Kurt is considering a job offer from the NRA. Meanwhile, Wackner goes to real court to have his approach and sanity questioned.
Season 5, Episode 7 – "And the Fight Had a Détente…"
At Circuit 9 3/4 court, Marissa is assigned to "prosecute" two contrasting "cancel culture" cases, which both leave her questioning the intentions of Wackner, David Cord and Del Cooper. The tension between Diane and Liz increases while they work together on a high profile case against the Chicago PD.
Season 5, Episode 8 – "And the Détente Had a End…"
Julius fights to defend himself in Wackner's court in a surreal and harrowing effort to reclaim his car and his dignity–all because of an alleged parking violation. Meanwhile, after focus group feedback threatens to sink Del Cooper's reality show about Wacker, both Marissa and Wackner embrace different tactics to help revive the court.
Season 5, Episode 9 – "And the End Was Violent…"
Liz and Diane struggle to get David Lee and the Dubai overlords to accept the new name partner, Allegra Jurado. Oscar Rivi attempts to make his cannabis business legitimate, but realizes that the corporate world can be just as cut-throat as his own. When the justice system fails to detain and prevent a man from continually committing anti-Asian hate crime, the cops discover another way for justice — Wackner's court.
Season 5, Episode 10 – "And the Violence Spread"
It's too many courts and too little time for the folks at Reddick/Lockhart. Marissa is mounting a strong defense in Vinetta's court for Matteo, while Diane attempts to get an interview with him in order to spring Matteo from the court. Carmen, Liz, and Allegra defend drug dealer, Oscar Rivi, as prosecutors attempt to put him back in prison.
---
Season 4, Episode 1 – "The Gang Deals with Alternate Reality"
Diane Lockhart finds herself living in an alternate reality where Donald Trump was never elected and Hillary Clinton is the current president of the United States. While Diane's liberal self is overjoyed, she soon realizes how a different outcome of the 2016 election might have unexpected consequences.
Season 4, Episode 2 – "The Gang Tries to Serve a Subpoena"
Reddick, Boseman & Lockhart attempt to adjust to their new landscape as a small subsidiary of STR Laurie, a huge multi-national law firm. Diane encounters a familiar face in court, Louis Canning, during an eminent domain case against a large real estate developer, Rare Orchard. Lucca is given an exciting, high-profile divorce case, however it comes with an unexpected partner, David Lee.
Season 4, Episode 3 – "TBA"
When DNC head Frank Landau asks Reddick, Boseman & Lockhart for help with a plan to engage African-American voters, the resulting discussion turns personal for one of the partners.
Season 4, Episode 4 – "The Gang is Satirized and Doesn't Like It"
A former divorce client, Duncan Herz, seeks the firm's help, claiming a buzzy new play running in Chicago is based on his divorce and shares specific details that unearth more than just his dirty laundry. Diane attempts to get to the heart of Memo 618 when a missing case leads her to the corporate overlords themselves, STR Laurie.
Season 4, Episode 5 – "The Gang Goes to War"
Following their secret rendezvous, Liz and Caleb find themselves on a case together, defending a soldier court-martialed for sabotaging the weapon of his superior officer. Lucca accompanies her client, and newly minted friend, Bianca, on a short but sure to be memorable trip to the Caribbean.
Season 4, Episode 6 – "The Gang Offends Everyone"
Reddick, Boseman & Lockhart represent an Olympic hopeful who was edged out of a spot on the U.S. women's swim team due to a last minute change to the eligibility window. From racism to sex and gender constructs, the case quickly takes the firm into rough waters. Meanwhile, Adrian is approached by the DNC with a compelling offer and Diane and Julius unite to track down Memo 618.
Season 4, Episode 7 – "The Gang Discovers Who Killed Jeffrey Epstein"
Reddick, Boseman & Lockhart are hired to investigate the death of high-profile New York inmate Jeffrey Epstein. Back at the office, STR Laurie continues to tighten their grip on the firm by forcing Diane, Adrian and Liz to conduct layoffs. But the enraged trio won't go down that route without a fight and hatch a plan in hopes of shaking off their corporate overlords once and for all.
---
Download SRT "

The Good Fight

" Fourth / Fifth Season Subtitles
The Good Fight

Season 5 English Subtitles Download
The Good Fight

Season 4 English Subtitles Download
The Subtitle(s) for The Good Fight Season 4 & 5 may either be in single Srt format or multi file  compress to Zip / Rar format. Either way, we have provide simple details guide on how to add or use this subtitle file(s) on your Media Player with the movie - The Good Fight Season 4 & 5.

How To Add Subtitle To The Good Fight Season 4 & 5 In Media Player
Before you can add
The Good Fight Season 4 & 5 subtitle file
file to the movie, you should make sure the exact SRT file for the particular movie format is downloaded from
Film2Srt.com
.
To download subtitles for The Good Fight Season 4 & 5, right click on the Black button above with your preferred language. Your subtitle file will begin downloading immediately.
Below are the step-by-step guide to add subtitles for The Good Fight Season 4 & 5 file on your movie player.
Step 1 - After downloading the The Good Fight Season 4 & 5 subtitles file in zip format. Extract the Srt files in it and copy or move it to the exact file/folder location of the movie on your mobile phone or personal computer.
Step 2 - After moving the subs  file for The Good Fight Season 4 & 5 to the same movie file location, the movie might play alongside the subtitles without any further settings or configuration.
Step 3 - However, If step 1 and 2 above didn't work out, then after opening your preferred movie player and movie is ready to be played. Select option or tools, then click on subtitles, navigate to the subtitle folder and select the actual subtitle file and the movie will start displaying along with the subtitle right away.
Step 4 - Lastly, if you are watching with VLC or MX Player on your Laptop, you can easily drag and drop the SRT file over the playing movie, and it should work correctly.
---
If the above subtitulos español file for The Good Fight Season 4 & 5 is not working as expected after following our recommended guide above. Use the comment box below to notify us and we will surely provide another adequate and a better version for you.