The subtitles file for The Red Sleeve – Korean Drama is now available in Srt, Zip or Rar format. We also enable options for different languages should incase you preferred another language rather than English.

FAST DOWNLOAD
Korean Drama (2021) The Red Sleeve Season 1 English SRT Subtitles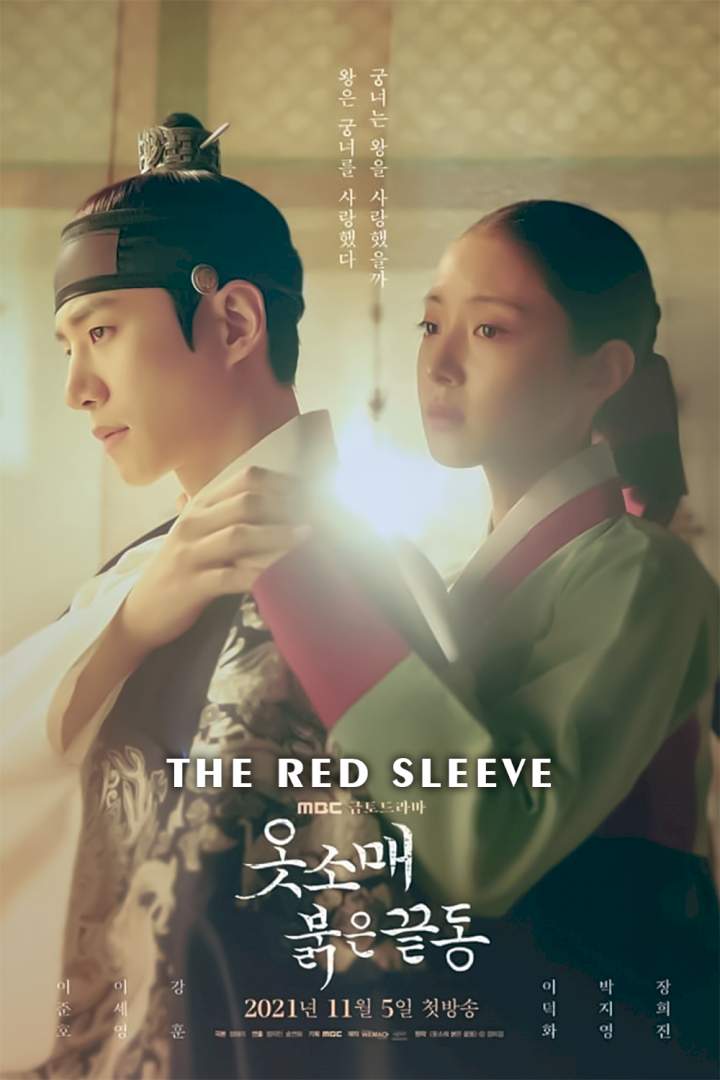 Synopsis : Based on a novel of the same name, it tells the record of a royal court romance between the King of Joseon who believes his duty is to his country first above love, and a court lady who wants to protect the life she has chosen.
The Red Sleeve // Otsomae Bolkeun Kkeutdong

Genre: History, Romance

Stars: Jun-Ho Lee, Se-yeong Lee, Jang Hye-jin

Release Date: November 12, 2021 (South Korea)
https://www.imdb.com/title/tt14687200/
---
Download SRT "

The Red Sleeve

" First Season Subtitles
Season 1, Episode 1 – "The Crown Prince Is My Master"
A young maid Duk-im is ordered to visit the late Royal Noble Consort Yeong's funeral. There she meets the Crown Prince who also secretly came to say goodbye to his grandmother. Duk-im learns about the forbidden book which King Yeongjo despises because of a certain phrase, and is warned that she'll be losing her head if she is to read it. One day, she hears that the book is kept in the Crown Prince's library, which makes her worried.
Season 1, Episode 2 – "Lee San's Scheme"
The tiger is on a killing spree within the palace. Unlike any other animal, it is smart. It knows exactly when to run, stop, and hunt. Although Lee San struggles with hunting this tiger, he unintentionally gets help from Duk Im as he was fooling around with her by pretending not to be the Crown Prince. To stop further casualties, this horrid tiger must be stopped.
Season 1, Episode 3 – "The Tiger And The Dragon"
All the young maids start to panic when they see the tiger. Duk Im comes up with a way to help the maids escape safely. San saves Duk Im, who's in danger, but for mobilizing the military in the palace without the King's permission, San almost receives punishment. And those who want to dethrone the Crown Prince are about to use this incident to their advantage.
Season 1, Episode 4 – "Princess Hwawan's Punishment"
Duk Im is shocked to find out San's true identity. She gets upset as she thinks he fooled her on purpose, and therefore, she tries her best to stay away from him. However, with her outstanding skills and cleverness, she gets chosen to be his personal maid. Meanwhile, Princess Hwawan is not fond of Duk Im and finds a way to frame her and punish her…
Season 1, Episode 5 – "Coming-of-Age Ceremony"
Just as the Prince's Lecturer orders to kill Duk Im, San appears to save her. Claiming that he was clearly mistaken, the Lecturer begs forgiveness and San lets this incident slide for now. Today is the day of the coming-of-age ceremony for the court maids. Duk Im is also very excited to celebrate this special day. However, the Queen does not make the day enjoyable for both San and Duk Im.
Season 1, Episode 6 – "Duk Im's Wisdom"
Lee San's confinement still takes place. Despite the long boring time without books, Duk Im's company helps him to stay sane. Lee San needs an ally who can closely advise the King. As Duk Im has sworn an oath to serve San, she volunteers to persuade Queen Kim. She comes up with a plan to make it possible, but whether it will actually work still remains a question.
Season 1, Episode 7 – "The Affection of a King"
After the incident at the bathtub, San happens to eavesdrop on the conversation of the court maids. From that conversation, he learns something that truly makes him happy. Meanwhile, something is not well with the King. Despite his great age, he maintains good health and a clear mind. However, some symptoms show that he is now not as healthy as he always used to be.
Season 1, Episode 8 – "Memories of the King"
After an inspection of the court maids, a royal book that belongs to Consort Yeong has emerged from Duk Im's belongings. Although it is a gift from the King himself, she is suspected of theft and undergoes questioning. Meanwhile, Hong Duk Ro eventually disobeys the Crown Prince and recruits a royal physician to the Dongdukhoe meeting. The reason is yet to find out.
Season 1, Episode 9 – "The Red Sleeve"
The King orders San to go on a trip to visit the royal tomb on his behalf. When the court ladies from Gwanghan Palace hear this news, they realize they have to get rid of San as soon as possible. Meanwhile, Duk Im and Court Lady Seo leave to get ingredients for Royal Kitchen and see a bunch of gunpowder bags that belong to East Palace thrown out at the river.
Season 1, Episode 10 – "The Secret Gate"
The King suspects that San is plotting treason for bringing the soldiers to Royal Temporary Palace when he was the one who had been attacked. Now that Duk Im knows Lady Seo was forced to join Gwanghan Palace by Head Lady Cho, she tries to save her by stealing the list of signers at Head Lady Cho's residence.
Season 1, Episode 11 – "Secret Document"
King Yeongjo orders to confine San his chambers. Duk I desperately want to help San get out of the trouble and start to think hard to come up with an idea. Duk I happen to learn about a secret document that the promise between His Majesty and the late Crown Prince is written on. Meanwhile, San is framed for high treason and questioned by King Yeongj in front of the high officials.
Season 1, Episode 12 – "The New King"
The dispute over the throne finally comes to an end. Aware of his current weakness, the King admits that his current status is no longer fit to rule a country. With the help of Duk Im, the King remembers the promise he has with his late son. A promise that he will make San the next king of Joseon. Now, a new sky has risen, and San prepares to become what he has been trained for his whole life.
Season 1, Episode 13 – "The Weight Of The Crown"
Not everyone is happy with San becoming King. Late night, an attack is made on San's life. Although San survives thanks to his Royal guard, he finds out that his stepbrother is a part of the treason. Regardless of the rebel, San is in deep grief of having to kill a family member. Meanwhile, Duk Im seems to be constantly drifting away from San due to various events. Their love just seems impossible in any way.
Season 1, Episode 14 – "The Missing Maids"
Wonbin suddenly falls into critical condition. Although she has absolutely no problems with her health, she suddenly meets her death at a young age. Despite Duk Ro's great grief for losing his younger sister, he still must fulfill his task in finding the court maids who suddenly went missing. As Kyung Hee is also one of the missing maids, Duk Im sets out on her own to find her close friend.
Season 1, Episode 15 – "New Royal Concubine"
San orders Duk Im to leave the palace. After one year, Duk Ro and Duk Im run into each other at the street market, and Duk Ro suggests to her that she should run away with him. Meanwhile, San happens to stay the night at Princess Cheongyeon's place and sees Duk Im after a long time. However, San decides to put the past behind and selects a new royal concubine.
FAST DOWNLOAD
The Subtitle(s) for The Red Sleeve – Korean Drama may either be in single Srt format or multi file  compress to Zip / Rar format. Either way, we have provide simple details guide on how to add or use this subtitle file(s) on your Media Player with the movie - The Red Sleeve – Korean Drama.

How To Add Subtitle To The Red Sleeve – Korean Drama In Media Player
Before you can add
The Red Sleeve – Korean Drama subtitle file
file to the movie, you should make sure the exact SRT file for the particular movie format is downloaded from
Film2Srt.com
.
To download subtitles for The Red Sleeve – Korean Drama, right click on the Black button above with your preferred language. Your subtitle file will begin downloading immediately.
Below are the step-by-step guide to add subtitles for The Red Sleeve – Korean Drama file on your movie player.
Step 1 - After downloading the The Red Sleeve – Korean Drama subtitles file in zip format. Extract the Srt files in it and copy or move it to the exact file/folder location of the movie on your mobile phone or personal computer.
Step 2 - After moving the subs  file for The Red Sleeve – Korean Drama to the same movie file location, the movie might play alongside the subtitles without any further settings or configuration.
Step 3 - However, If step 1 and 2 above didn't work out, then after opening your preferred movie player and movie is ready to be played. Select option or tools, then click on subtitles, navigate to the subtitle folder and select the actual subtitle file and the movie will start displaying along with the subtitle right away.
Step 4 - Lastly, if you are watching with VLC or MX Player on your Laptop, you can easily drag and drop the SRT file over the playing movie, and it should work correctly.
---
If the above subtitulos español file for The Red Sleeve – Korean Drama is not working as expected after following our recommended guide above. Use the comment box below to notify us and we will surely provide another adequate and a better version for you.